Inducted in 2018
Duane graduated from Upsala High School in 1989. Following high school, Duane attended St. Cloud Technical College studying carpentry. He then attended Wilmar Community College and Mayville State where he graduated in 1995 with a BS degree in education.
Duane had an interest in all sports, but basketball was his passion. "Whitey", as he was lovingly known, was dedicated to being as good a basketball player as he could be. While splitting time between working on the family farm and playing basketball in their hay shed against family members and neighbors on Sunday afternoons and evenings, Whitey became a very talented player. His shooting ability was where he really excelled. He had that "shooters confidence or mindset" as they say. Many fun stories are told about his shooting range. As a teammate once said, when "Whitey" stepped on the court the game changed. He'd shoot a three, make it, and then next time down the court he'd take a step or two back and drain another three. He would keep doing this until he was practically at half court and not making them anymore. All said, his hustle, shooting ability, and pure enjoyment in the sport made him a fun player to watch on the court. He was also a model for those that wanted to play the game the right way.
Whitey received many awards for his play. His 1,216 points scored at Upsala High School (which at the time was a school record) stand out most, but he also served as captain, four-year letter winner, three time all-conference, and team MVP in 1998 and 1999. He led the team in steals and free throw percentage. After high school, he continued playing basketball at Wilmar Community College where he was voted "best defensive player" in 1991 and 1992. He then played at Mayville State.
After his college playing days were over, "Whitey" moved back to Upsala and worked at Arnzen Construction until venturing off and starting New Age Builders. He also continued playing basketball in adult leagues.
"Whitey" was much more than a basketball player. He was looked up to and much loved by his nieces, nephews, and entire family, but he also had the respect and appreciation of his friends and community for the time he spent helping out at the St. Francis Catholic Church bazaar, giving a helping hand to anyone who needed one, and supporting and cheering for Upsala High School athletes in all sports. He especially enjoyed cheering on his many nieces and nephews. The family fondly remembers, "He loved giving high fives and noogies to his nieces and nephews and told them how lucky they were to be able to play all these sports." A favorite quote of "Whitey" was "play hard and work hard." This pretty much sums up the way he lived.
Duane is the son of Donald and Elizabeth "Betty" Herzog. Duane passed away on February 28th, 2017 at the age of 46.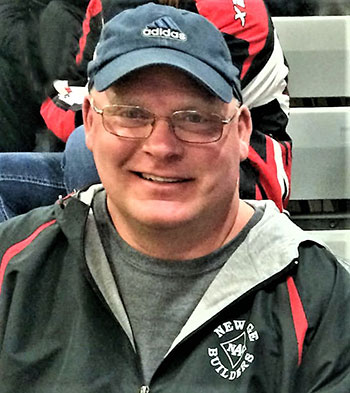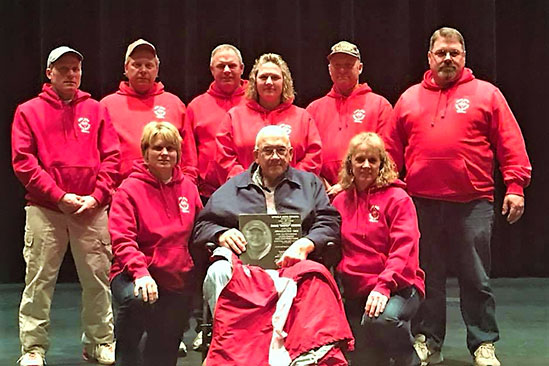 Receiving the Hall of Fame plaque on behalf of Duane "Whitey" Herzog were his father and siblings. Row 1 (Left to Right): Shirley Winkels, Don Herzog, Janet Christen. Row 2 (Left to Right): Dennis Herzog, Gary Herzog, Allen Herzog, Janel Marstein, Fred Herzog, David Herzog.